Bonnie Tyler brings to us something rather unexpected. This album is not your typical Bonnie Tyler album. It is filled with various genres, great collaborators and a rather diverse output. Bonnie may be most known for 'Total Eclipse Of The Heart', but we all know that she hasn't survived this long in the music business on that one song! The album ROCKS AND HONEY proves there is more to Bonnie than one big hit…
'This Is Gonna Hurt' brings that famously gravelly voice of Bonnie's out. The song is rock, pure and simple. This is Bonnie at her best, still with a great vocal ability at the age of 61. 'Sunshine' brings her voice down a tad, though still a bit rough. The drums and violin come together to collide with a great guitar riff as we enter the chorus. This is the point Bonnie Tyler shows me how she can adapt for her music. The next track 'Believe In Me' is the Eurovision entry, and a very relaxing song for Bonnie's rather strong vocals. Desmond Child has helped create a fantastic song for Bonnie, arguably one of her greatest for a number of years. She excels at delivering this track, after a couple of listens you will love this song. If I wasn't informed, I would not think this was Bonnie Tyler singing. Her voice is positively beautiful during this song. "Believe in me, yeah. Believe in the way I look at you and stand beside you". The pop-ballad works really well, I already am hoping for more music like this from Bonnie.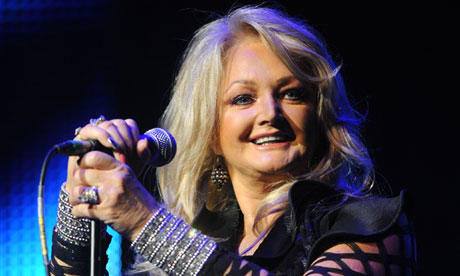 Vince Gill joins Bonnie for the next song 'What You Need From Me'. The country section brings a new dynamic to the album. Bonnie sounds like she should have done more music like this. Her talent for pop and country is in my opinion as great as her Rock presence. The pair complements each other and Bonnie loves to take centre stage. 'Crying' is another pop-ballad, though rather tame compared to the Eurovision entry, this would have worked if Bonnie had gone for her more mellow tone. 'Little Superstar' is a great piano-led track. It sounds brilliant where Bonnie experiments with these different areas, this sounds like an instant classic. The country vibe returns with a bang, 'Flat On The Floor' could work on your usual country rock compilation. The sound is here and now, the track feels a little flat when it comes to being any more than a rock tune. Though it is still catchy.
'All I Ever Wanted', 'Stubborn' and 'Love Is The Knife' continue the pop-ballads that this album seems to be packed with. Though their punch seems to be a little less after each one passes. 'Lord Help Me' is one last rock song from Bonnie. Where a writing credit is given to country queen Carrie Underwood. It has 80's written all over it. Bonnie Tyler knows how to lead herself on this one and we are back on track. 'Mom' feels like a very personal track. The fragile structure of Bonnie Tyler's voice is evident and for all to see, she holds herself together well. 'You Try' finishes the album. A final ballad to close. The chorus brings out another strong performance; the words almost reflect the ending that we have reached. A nice conclusion.
Bonnie Tyler has put a lot into this album. No defining style in this body of work, but there are plenty of highlights. The Eurovision song 'Believe In Me' is a classic in its own right. The tracks 'Little Superstar' and 'Lord Help Me' deserve recognition and I feel that Bonnie and Vince Gill should do more together; I love 'What You Need From Me'. It is a great sound, it's unlike any work Bonnie has ever done. Overall, I enjoyed the album. It has a lot of great moments, but the good does outweigh the uneasy stuff. If this was an EP of the top tunes, it would be a critically-acclaimed hit! But, this album does represent a very good sound. Bonnie, good luck with Eurovision and the album!
Final Rating: 7/10
Review by Jonjo Cosgrove